/// Alclair Audio CMVK Five Driver Custom In Ear Monitors: Our Price £700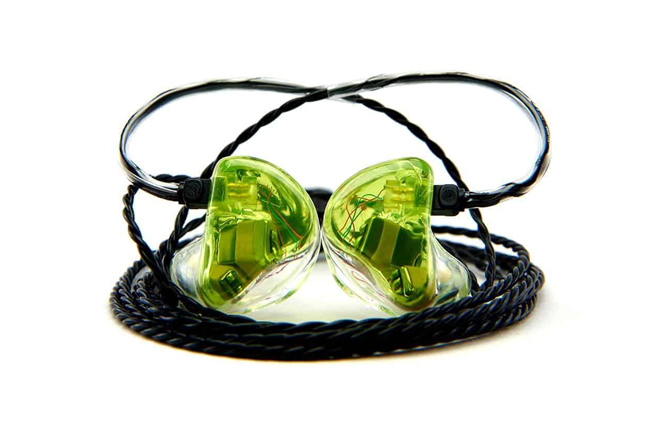 In-ear monitors for drummers and bass players are tricky. While some give you low end, not many give you the headroom necessary for monitoring yourself. The CMVK five driver in-ear monitor features an abundance of headroom. Because of this, they are the perfect in-ear monitors for bass players and drummers. If you play on stage, you need to hear yourself and when the kick or bass is prominent in a mix, it can tend to overwhelm the entire mix.
The other thing is that in-ear monitors for drummers and bass players need to extend into the sub-audible range. Remember that first time you felt a sub-woofer rattle your chest cage? The CMVK five driver is the closest you can get to replicating that feeling in an in-ear monitor. Deep thunderous lows that you can feel with a smooth midrange and crisp highs make the CMVK the monitor of choice for bass players, drummers, rappers and DJ's.
With five drivers made up of four woofers and one tweeter, the CMVK's low end is clean and distortion free with plenty of headroom. It's big and punchy and reminds you of why you started playing music in the first place.
Need more clarity but still heart pounding bass? The
RevX ten driver
is the finest of our in-ear monitors for bass players and drummers. Not ready to dive that deep? The
Spire six driver
also works well. On a budget, the
Tour triple driver
is the way to go.
The CMVK is for bass players, drummers, and bass lovers of all types. Hip-hop emcees or the DJ working out the next banger also love the CMVK. With lows that fall off the audible spectrum and into the "feel" spectrum, the CMVK is for anyone wanting to feel the passion and drive that standing in front of a wall of speakers gives you.
For the Alclair Audio CMVK you will need to have ear impressions, these will need to be made by an audiologist and are not included in the price, ear impressions will cost no more than £60 and once you've placed an order our online order process will guide you through the next steps for anywhere in the UK.

The chart above is an approximation of how this model will sound to the average listener. The bass range is roughly 20-250Hz, midrange is 250Hz – 2kHz, upper midrange is about 2-4kHz and the highs are frequencies above 4kHz.
| | |
| --- | --- |
| /// Impedance: 54 Ohms | |
| /// SPL (1 kHz): 103 dB | |
| /// Drivers: Five Balanced Armature Drivers + 2-Way CrossOver | |
| /// Cable: Detachable Braided | |
| /// Jack Plug: 3.5mm Gold Plated | |
| | |
| --- | --- |
| /// Model: Alclair Audio CMVK, Leather Case and Wax Cleaning Tool | |
| /// Quality Checking of Ear Impressions: Yes | |
| /// 3D Scanning & Storing of Ear Impressions: Yes | |
| /// Cost of Shipping Impressions to Manufacturer: Yes | |
| /// Cost of Shipping Completed IEMs from Manufacturer to Us: Yes | |
| /// Taxes, Duty & UK Customs Handling Charges: Yes | |
| /// Bank Fees for International Payment: Yes | |
| /// Cost of Shipping Completed IEMs from Us to You: Yes | |
| /// Warranty: 2 Years | |
| | |
| --- | --- |
| /// Faceplates: Choice of Colours for Both Sides | |
| /// Shells: Choice of Colours for Both Sides | |
| /// Initials: 2 Characters on Shells | |
| /// Cable: Black or Clear, 50" or 64" | |
| /// Cable Socket Type: 2-Pin | |
| /// Logo Choices: Selection of Alclair Audio (if required) | |
| | |
| --- | --- |
| /// Bluetooth Cable: +£150 | |
| /// Custom Artwork (per set): +£50 | |
| /// Glitters (per set): +£25 | |
| /// Pearlescent (per set): +£50 | |
| /// Wood Faceplates (per set): +£50 | |
| /// Peli Case: +£40 | |
| | |
| --- | --- |
| /// Our Office: Place your order and then select Hertfordshire HQ. | |
| /// London: Place your order and then select London. | |
| /// Rest of the UK: Place your order and then select another town or city. | |
| /// Previous Client: Place your order and then select 3D Scans on File. | |
| /// Mobile: London, Hertfordshire, Essex, Cambridgeshire, Bedfordshire, Middlesex and West Suffolk (mobile fees will apply) - Contact us to discuss your requirements. | |
| /// Management, Artists & Sound Engineers: Contact us to discuss your requirements. | |