/// Alclair Audio Tour Triple Driver Custom In Ear Monitors: Our Price £550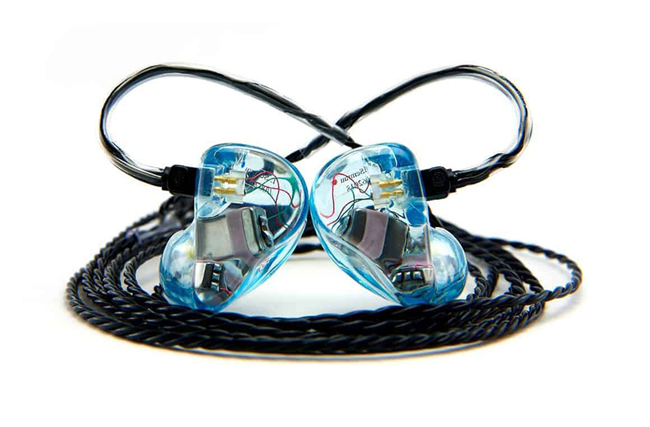 Day in and day out, the Tour triple driver are powerhouses. They just keep going for those who use in-ear monitoring daily and weekly. Hand built to withstand the rigors of touring, they have plenty of power. The Tourís contour lets your music rise above stage and audience volumes. With a tight low end and mids/highs that cut-through a mix, the Tour is a monitor with groove. When it comes to in-ear monitoring, the Tour is versatile and flexible. It provides outstanding in-ear monitoring for a variety of musical needs. The large woofer provides a good amount of headroom (clean volume before distorting). This makes the Tour a great option for guitar, bass and drum players who need a solid low end that wonít distort.
The Tours are perfect for any musician who needs reliability and performance on any sized stage. For those ready for a bit more balance, headroom and dynamic feel, check out the
Studio3
,
Spire six driver
or the
RevX ten driver
. Not ready for the Tour? Try the
Dual XB dual driver
for a similar contour at a lower price.
An abundance of power with a punchy low end and plenty of articulation that comes from a boost in the mid-high end make the Tour the go-to monitor for musicians who play on medium to large, or very loud stages. Bass players, drummers, guitar players, or anyone who spends time on the road, this is your first stop.
For the Alclair Audio Tour you will need to have ear impressions, these will need to be made by an audiologist and are not included in the price, ear impressions will cost no more than £60 and once you've placed an order our online order process will guide you through the next steps for anywhere in the UK.
The chart above is an approximation of how this model will sound to the average listener. The bass range is roughly 20-250Hz, midrange is 250Hz Ė 2kHz, upper midrange is about 2-4kHz and the highs are frequencies above 4kHz.
| | |
| --- | --- |
| /// Impedance: 36 Ohms | |
| /// SPL (1 kHz): 105 dB | |
| /// Drivers: Triple Balanced Armature Drivers + 2-Way CrossOver | |
| /// Cable: Detachable Braided | |
| /// Jack Plug: 3.5mm Gold Plated | |
| | |
| --- | --- |
| /// Model: Alclair Audio Tour, Leather Case and Wax Cleaning Tool | |
| /// Quality Checking of Ear Impressions: Yes | |
| /// 3D Scanning & Storing of Ear Impressions: Yes | |
| /// Cost of Shipping Impressions to Manufacturer: Yes | |
| /// Cost of Shipping Completed IEMs from Manufacturer to Us: Yes | |
| /// Taxes, Duty & UK Customs Handling Charges: Yes | |
| /// Bank Fees for International Payment: Yes | |
| /// Cost of Shipping Completed IEMs from Us to You: Yes | |
| /// Warranty: 2 Years | |
| | |
| --- | --- |
| /// Faceplates: Choice of Colours for Both Sides | |
| /// Shells: Choice of Colours for Both Sides | |
| /// Initials: 2 Characters on Shells | |
| /// Cable: Black or Clear, 50" or 64" | |
| /// Cable Socket Type: 2-Pin | |
| /// Logo Choices: Selection of Alclair Audio (if required) | |
| | |
| --- | --- |
| /// Bluetooth Cable: +£150 | |
| /// Custom Artwork (per set): +£50 | |
| /// Glitters (per set): +£25 | |
| /// Pearlescent (per set): +£50 | |
| /// Wood Faceplates (per set): +£50 | |
| /// Peli Case: +£40 | |
| | |
| --- | --- |
| /// Our Office: Place your order and then select Hertfordshire HQ. | |
| /// London: Place your order and then select London. | |
| /// Rest of the UK: Place your order and then select another town or city. | |
| /// Previous Client: Place your order and then select 3D Scans on File. | |
| /// Mobile: London, Hertfordshire, Essex, Cambridgeshire, Bedfordshire, Middlesex and West Suffolk (mobile fees will apply) - Contact us to discuss your requirements. | |
| /// Management, Artists & Sound Engineers: Contact us to discuss your requirements. | |