/// Are they safe?
Yes, any person taking ear impressions must be qualified and also insured - They will then perform the procedure correctly and more importantly safely. At The Custom IEM Company we are both qualified and insured, we also use the latest equipment and impression materials for our ear impression services, both at our offices and on-site.
/// Why would you need them?
Ear Impressions are required for any custom fitted product, be that custom in ear monitors for musicians, DJs, audiophiles or consumers, etc. They will ensure a perfect and therefore comfortable fit, giving you the largest amount of ambient attenuation possible but more importantly allowing you to enjoy a better quality of sound at lower volumes.
/// What are the costs?
The Custom IEM Company offers appointments at our premises in Hertfordshire (
click here
for a map of our location), or at our location in London (N1 9PP) or across our regional UK locations but we also offer a mobile service (mobile appointment fees will apply) that covers London, Hertfordshire, Essex, Cambridgeshire, Bedfordshire, West Suffolk and Middlesex. Our prices range from £80 and we are able to visit you any day of the week including evenings and weekends.
/// Should I get my ear impressions made before I order my custom in ear monitors?
No, you should always place your order with us 1st for a number of reasons.
/// I'm not near your offices or within your coverage area, can I still make a purchase?
Of course, we deal with clients all over the UK and Europe on a daily basis, when you have placed your order with us we will ensure that you have everything you need including our address for your impressions to be sent back to and instructions to take with you to your audiologist appointment - We work with a network of UK audiologists so we'll happily put you in touch with your nearest outlet, alternatively we have 2 agents that may cover your area (mobile appointment fees will apply).
If you are a band or group of musicians that require multiple Custom IEMs and or ear impressions please call us as we are able to offer package deals, our coverage area for this extends to most parts of the UK.
/// I'm not buying the custom in ear monitors from you, can you still make my ear impressions?
Yes and we guarantee the quality of our impressions which will give you extra peace of mind. We also offer a next day shipping service to the US (and many other destinations) should you like us to handle having your impressions shipped to your chosen manufacturer.
/// How long do they take to make?
Typically an appointment will take no more than 30 minutes (per person).
/// How long do ear impressions last before they need to be used?
Maximum 6 months before they start to degrade / change shape so they must be used by then to make your custom product or re-made. With some of our custom in ear monitors your ear impressions will be digitally scanned by the manufacturer, free of charge and held on file for 5 years meaning that any re-makes or new custom in ear monitors in that time will not require a new set of ear impressions, we also make 3D digital scans of all ear impressions (see section below).
/// Do you keep my ear impressions on file?
Yes, we make 3D digital scans of your ear impressions and keep them on file for up to 5 years - For further details...
Continue Reading >>
/// Whatís the ear impression process?
Initially during your appointment our qualified professional will examine your ears to ensure that the ear impressions can safely be taken, generally speaking only an excess of ear wax will prevent us from proceeding - In these circumstances you should see your GP / Nurse to have the wax removed, we can then re-book your appointment.
If your ears are OK, they will place a small piece of foam into your ear canal to prevent any excess impression material going into your ear. They will then inject into the outer part of your ear canal the soft impression material: This process will take approximately 15 - 20 minutes.
Once set, the impression along with the foam will gently be removed.
/// Do I need an open mouth impression?
This will depend on a few factors and is best discussed with us in person. Generally speaking an open mouth impression will mean that your ear canal with have extra grip on your custom product when the mouth is closed and a normal amount of grip when in the same position as when the impression was taken - Ideal for singing musicians (as the seal is less likely to be broken with constant mouth movement).
Again, to decide what is right for you, please speak to us...
/// Audiologist or Custom Specialist?
All Audiologists are more than qualified to take an ear impression but not always do they understand that an ear impression can be used for more than just an hearing aid! If you are using a local audiologist to have impressions made rather than our services for any of our custom in ear monitors please ensure that you have made the purchase with us first and that we have sent you your ear impression instructions for the audiologist to follow.
As a specialist store that provides custom in ear monitors we know what we need to do and why we need to do it, no fuss, no hassle, we know what detail is required for every product, for every client, no matter what shape or size your ears are - Our specialist service, advice and experience cannot be rivalled.
/// Can anyone have ear impressions taken?
Technically yes, however for custom in ear monitors itís best that you are at least 15 years old, this is because any younger and your ears may out grow them too quickly - Speak to us about this if you have any queries or concerns.
/// What does an ear impression look like?
(Here's 1 we made earlier)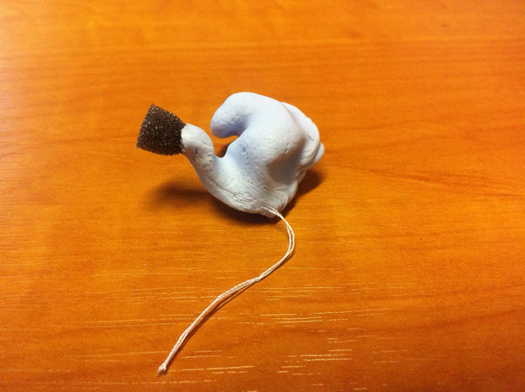 /// Whatís a bad impression? Does it make a difference?
A bad impression is an impression that has any of the required detail missing. It can make a difference in 2 ways: 1) It could stop the product being made requiring you to spend more time and money to get fresh impressions, delaying ultimately the production of your custom in ear monitors or 2) Worse case, your custom in ear monitors are made and they either don't fit, donít form a seal, are uncomfortable or possibly all of these issues.
At The Custom IEM Company we will never make a bad impression, likewise we will never send any bad impressions to any of our custom in ear monitor manufacturers. If you are sending us impressions directly we will check them to ensure that they are usable and advise you if they need to be re-made, this is FREE of charge and part of our service! If they need to be re-made we will also provide you with images of your ear impressions with all of the issues / defects highlighted.
/// Can I use a self impression kit?
Not a good idea! Will never be as accurate as having a professional make them and honestly do you want to have someone unqualified squirting anything in your ear? Donít forget also the subject mentioned above, bad impression = bad custom product.
/// Can I use Blue-Tac?
Er, no although I have seen a video on YouTube of a guy making custom earphone sleeves with Blue-Tac, I guess he was on a very tight budget?
/// I already have a moulded product, do I need new ear impressions?
Yes, as all custom in ear monitors are made from ear impressions, you cannot mould a new product from an existing custom product.
/// I have ear impressions already, can they be used?
Only if they are less than 6 months old and have all the required detail (we can check this for you).
/// Need more information or help?
Call us on: 0333 772 0007 (Lines Open: Mon - Sun, 9.00am - 9.00pm) or
Click Here
to visit our Contact Us page.