/// InEarz Reshelling Service for IEMs: Discontinued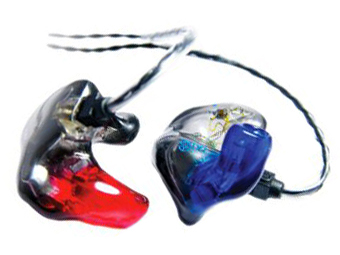 Give life to your universal in ear monitors or old custom in ear monitors with our Reshell & Remoulding Service. During production your IEMs / earphones are carefully taken apart to harvest the internal components, they are then placed within a new custom moulded shell built to the same quality as you'd expect from a brand new set of custom in ear monitors.
If your IEMs or earphones are driving you crazy, you donít want to struggle with non replaceable cables or your IEMís falling out mid gig anymore, reshelling is your cost effective solution! Ideally suited to anyone who is also fed up with constantly replacing foam tips or has a damaged cable or is simply just struggling to get a good comfortable seal.
For the Reshell & Remoulding Service you will need to have ear impressions, these will need to be made by an audiologist and are not included in the price - All of the drivers in your IEMs must be balanced armatures and would also need to be in working order. Your reshelled IEMs will be finished with new industry standard 2-pin cable sockets, 4-Pin JH Audio reshells will automtically retain the 4-pin socket.
| | |
| --- | --- |
| /// Supported IEM Models: Click Here for a Full List | |
| /// Your IEMs not shown?: Please Contact Us | |
| /// Surcharge (more than 8 drivers per side): +£85 | |
| /// Black or Pearl White 2-Pin Detachable 48" Braided Cable: +£40 | |
| /// Black or Pearl White 2-Pin Detachable 64" Braided Cable: +£45 | |
| /// Black 2-Pin Detachable 48" Braided Mic Cable: +£55 | |
| /// Recessed Sockets: +£20 | |
| /// Rush Service: +£130 | |
| | |
| --- | --- |
| /// Model: Reshell (up to 8 drivers per side), Case and Wax Cleaning Tool | |
| /// Quality Checking of Ear Impressions: Yes | |
| /// 3D Scanning & Storing of Ear Impressions: Yes | |
| /// Cost of Shipping Impressions to Manufacturer: Yes | |
| /// Cost of Shipping Completed IEMs from Manufacturer to Us: Yes | |
| /// Taxes, Duty & UK Customs Handling Charges: Yes | |
| /// Bank Fees for International Payment: Yes | |
| /// Cost of Shipping Completed IEMs from Us to You: +£8 | |
| | |
| --- | --- |
| /// Standard Colours: Included | |
| /// Carbon Fibre (per side): +£25 | |
| /// Brushed Silver or Brushed Gold (per side): +£25 | |
| /// Pearl (per side): +£25 | |
| /// Glitter (per side): +£25 | |
| /// Wood (per side): +£25 | |
| /// Green Abalone (per side): +£25 | |
| /// Blue Paua (per side): +£25 | |
| /// Mother of Pearl (per side): +£25 | |
| /// Custom Artwork (per side): +£25 | |
| /// Rhinestones (per side): +£35 | |
| /// Watch Gears (per side): +£75 | |
| /// Caviar Beads (per side): +£35 | |
| | |
| --- | --- |
| /// Standard Colours: Included | |
| /// Pearl (per side): +£10 | |
| /// Clear Canals (per side): +£10 | |
| /// Recessed Sockets: +£20 | |
| | |
| | |
| | |
| | |
| | |
| | |
| | |
| --- | --- |
| /// Option 1: As the home of custom in ear monitors in the UK you could visit us at our offices in Hertfordshire and we could make your ear impressions or we can refer you to our partner clinic in London or | |
| /// Option 2: We have a mobile service that covers London, Hertfordshire, Essex, Cambridgeshire, Bedfordshire, Middlesex, West Suffolk or | |
| /// Option 3: Place your order and we'll put you in touch with your nearest UK audiologist or | |
| /// Option 4: If you are a band or group of musicians that require multiple IEMs and ear impressions please call us as we are able to offer package deals, our coverage area for this extends to most parts of England | |