/// Ultimate Ears UE Premier Custom In Ear Monitors: Our Price £2664 (RRP: £2960)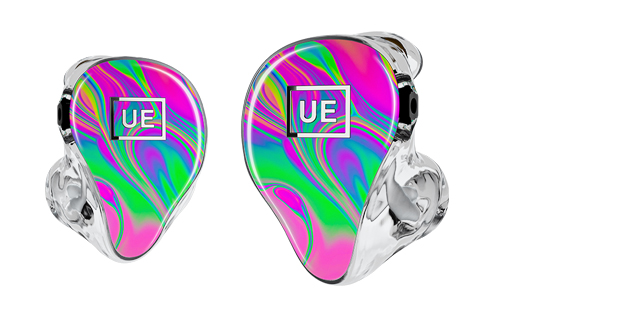 For over 25 years, Ultimate Ears have made it their mission to provide musicians and music lovers with the most innovative custom in ear monitors in the industry. Building upon the success of the groundbreaking UE Live, they wanted to push themselves further, their team of expert engineers embarked on a mission to take their technology further than ever before.
After relentless experimentation and non-stop development they introduced the UE Premier, their most advanced IEM ever. Loaded with a groundbreaking 21 drivers, UE Premier is their most powerful, nuanced and versatile set of custom in ear monitors. Whether you're performing live on stage, recording in the studio, or listening to your favorite music in audiophile sound quality, UE Premier sets a new gold standard for exceptional sound quality.
The Ultimate Ears UE Premier is available with the optional ambient feature to allow for stage bleed while controlling the isolation effect and all Ultimate Ears custom in ear monitors can be ordered in a variety of colours, being personalised with your own artwork also makes them truly unique.
All Ultimate Ears custom in ear monitors now come with their UE Super Bax cable with IPX socket, this latest design is super strong, ultra flexible, lightweight, IP67 rated (so certainly sweatproof) and more than tour-ready - The cable has no memory wire and will not oxidise!
For the Ultimate Ears UE Premier you will need to have ear impressions, these will need to be made by an audiologist and are not included in the price, ear impressions will cost between £60-£80 and once you've placed an order our online order process will guide you through the next steps for anywhere in the UK.
| | |
| --- | --- |
| /// Frequency Response: 5 - 40,000 Hz | |
| /// Impedance: 15 Ohms | |
| /// SPL (1 kHz): 126 dB | |
| /// Drivers: 21 Drivers | |
| /// Driver Config: 4x Sub/Low, 8x Low/Mid, 4x Mid, 1x High & 4x Super High | |
| /// Cable: Detachable Braided | |
| /// Jack Plug: 3.5mm Gold Plated | |
| | |
| --- | --- |
| /// Model: Ultimate Ears UE Premier, Hard Case and Wax Cleaning Tool | |
| /// Quality Checking of Ear Impressions: Yes | |
| /// 3D Scanning & Storing of Ear Impressions: Yes | |
| /// Cost of Shipping Impressions to Manufacturer: Yes | |
| /// Cost of Shipping Completed IEMs from Manufacturer to Us: Yes | |
| /// Taxes, Duty & UK Customs Handling Charges: Yes | |
| /// Bank Fees for International Payment: Yes | |
| /// Cost of Shipping Completed IEMs from Us to You: Yes | |
| /// Warranty: 2 Years | |
| | |
| --- | --- |
| /// Faceplates: Choice of Colours for Both Sides | |
| /// Shells: Clear | |
| /// Initials: 2 Characters on Shells | |
| /// Cable: Black or Clear, Super Bax Detachable Braided | |
| /// Cable Length: 50" or 64" | |
| /// Cable Socket Type: UE IPX | |
| /// Logo: UE Logo (New Square Style or Legacy Curved Style) | |
| | |
| --- | --- |
| /// Ambient Ports: +£50 (?) | |
| /// Custom Artwork: +£190 (includes UE logo removal fee) | |
| /// Halo Faceplates (Gold or Silver): +£190 | |
| /// Wood Faceplates: +£95 | |
| /// Carbon Fibre Faceplates: +£95 | |
| /// Gold Faceplates: +£95 | |
| /// Brushed Titanium Faceplates: +£95 | |
| /// Mirrored Faceplates: +£95 | |
| /// Sparkle Faceplates: +£95 | |
| /// Color Waves Faceplates: +£95 | |
| /// Mother of Pearl Faceplates: +£95 | |
| /// Replace UE Logo with Initials: +£50 | |
| /// No UE Logo or Initials: +£50 | |
| /// UE Switch System (inc. 3 Sets of Faceplates): from £190 (?) | |
| | |
| --- | --- |
| /// Our Office: Place your order and then select Hertfordshire HQ. | |
| /// London: Place your order and then select London. | |
| /// Rest of the UK: Place your order and then select another town or city. | |
| /// Previous Client: Place your order and then select 3D Scans on File. | |
| /// Mobile: London, Hertfordshire, Essex, Cambridgeshire, Bedfordshire, Middlesex and West Suffolk (mobile fees will apply) - Contact us to discuss your requirements. | |
| /// Management, Artists & Sound Engineers: Contact us to discuss your requirements. | |