/// Ultimate Ears UE 18+ Pro Six Driver Custom In Ear Monitors: £1300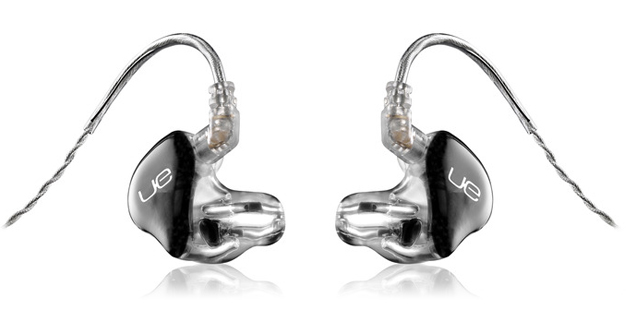 The culmination of more than 20 years of experince - UE have taken their top-selling, award-winning UE 18 Pro and have redesigned it from the ground up. While holding true to the sonic characteristics of the original UE 18 Pro, they have improved the sound signature by extending the high frequencies by 3kHz. They've added their proprietary True Tone drivers, a new precision crafted sound engine and have also re-tuned the crossover networks, you'll feel more upper register harmonics, hear improved presence and enjoy clear warm sound. And of course, the UE 18+ Pro takes full advantage of their all-digital modeling and printing process.
The Ultimate Ears UE 18+ Pro is available with the optional ambient feature to allow for stage bleed while controlling the isolation effect and all Ulitmate Ears custom in ear monitors can be ordered in a variety of colours, being personalised with your own artwork also makes them truly unique.
All Ultimate Ears custom in ear monitors now come with a choice of cable socket types, the UE 2-pin as pictured above or MMCX. The UE 2-pin has been used on all models since September 2010 and is the go-to style for musicians and stage / live music use, if you're a consumer looking for some aftermarket cables in the future or the option of bluetooth cables then the MMCX socket is for you!
For the Ultimate Ears UE 18+ Pro you will need to have ear impressions, these will need to be made by an audiologist and are not included in the price.
| | |
| --- | --- |
| /// Frequency Response: 5 - 22,000 Hz | |
| /// Impedance: 37.5 Ohms | |
| /// SPL (1 kHz): 100 dB | |
| /// Drivers: Six Balanced Armature Drivers | |
| /// Driver Config: 2x High, 2x Mid & 2x Low | |
| /// CrossOver: 4-Way | |
| /// Cable: Detachable Braided | |
| /// Jack Plug: 3.5mm Gold Plated | |
| | |
| --- | --- |
| /// Model: Ultimate Ears UE 18+ Pro, Hard Case and Wax Cleaning Tool | |
| /// Quality Checking of Ear Impressions: Yes | |
| /// 3D Scanning & Storing of Ear Impressions: Yes | |
| /// Cost of Shipping Impressions to Manufacturer: Yes | |
| /// Cost of Shipping Completed IEMs from Manufacturer to Us: Yes | |
| /// Taxes, Duty & UK Customs Handling Charges: Yes | |
| /// Bank Fees for International Payment: Yes | |
| /// Cost of Shipping Completed IEMs from Us to You: Yes | |
| /// Warranty: 2 Years | |
| | |
| --- | --- |
| /// Faceplates: Choice of Colours for Both Sides | |
| /// Shells: Clear | |
| /// Initials: 2 Characters on Shells | |
| /// Cable: Black or Silver Detachable Braided | |
| /// Cable Length: 48" or 64" | |
| /// Cable Socket Type: UE 2-Pin (pictured above) or MMCX | |
| /// Logo: UE Logo | |
| | |
| --- | --- |
| /// iOS Mic Cable (replaces standard version): +£10 | |
| /// Android Mic Cable (replaces standard version): +£10 | |
| /// Lightning Cable (replaces standard version): +£30 | |
| /// Bluetooth Cable (replaces standard version): +£70 | |
| /// Ambient Ports: +£40 | |
| /// Custom Artwork: +£170 (includes UE logo removal fee) | |
| /// Speciality or Wood Faceplates: +£85 | |
| /// Pattern Faceplates: +£85 | |
| /// Remove UE Logo: +£45 | |
| /// Rush Build Service: +£150 | |
| | |
| --- | --- |
| /// Option 1: As the home of custom in ear monitors in the UK you could visit us at our offices in Hertfordshire or London and we could make your ear impressions or | |
| /// Option 2: We have a mobile service that covers London, Hertfordshire, Essex, Cambridgeshire, Bedfordshire, Middlesex, West Suffolk or | |
| /// Option 3: Place your order and we'll put you in touch with your nearest UK audiologist or | |
| /// Option 4: If you are a band or group of musicians that require multiple IEMs and ear impressions please call us as we are able to offer package deals, our coverage area for this extends to most parts of the UK | |