/// Ultimate Ears Reference Remastered Custom In Ear Monitors: Our Price £972 (RRP: £1080)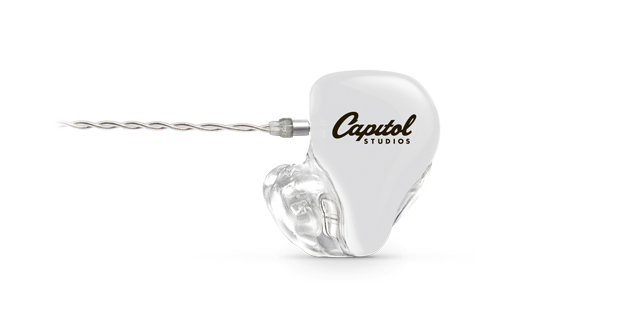 The Ultimate Ears Reference Remastered Monitors - High Resolution studio reference monitors developed in collaboration with Capitol Studios. Tuned for Hi-Res Audio they feature True Tone technology - providing expanded highs and lows, defining their commitment to fidelity.
The Ultimate Sound Remastered - They are the second collaboration with the engineers from Capitol Studios and are based on the sounds of their state-of-the-art facility, using the UE Pro Proprietary True Tone Drivers they have extended the frequency range to deliver a flat response out to 18 kHz. With their commitment to fidelity you can now hear the harmonic structure and overtones that are usually missing from most headphones.
All Ultimate Ears custom in ear monitors now come with their UE Super Bax cable with IPX socket, this latest design is super strong, ultra flexible, lightweight, IP67 rated (so certainly sweatproof) and more than tour-ready - The cable has no memory wire and will not oxidise!
For the Ultimate Ears Reference Remastered you will need to have ear impressions, these will need to be made by an audiologist and are not included in the price, ear impressions will cost between £60-£80 and once you've placed an order our online order process will guide you through the next steps for anywhere in the UK.
| | |
| --- | --- |
| /// Frequency Response: 5 - 25,000 Hz | |
| /// Impedance: 35 Ohms | |
| /// SPL (1 kHz): 100 dB | |
| /// Drivers: Triple Balanced Armature Drivers | |
| /// Driver Config: 1x High, 1x Mid & 1x Low + 3-Way CrossOver | |
| /// Cable: Detachable Braided | |
| /// Jack Plug: 3.5mm Gold Plated | |
| | |
| --- | --- |
| /// Model:UE Reference Remastered, Hard Case and Wax Cleaning Tool | |
| /// Quality Checking of Ear Impressions: Yes | |
| /// 3D Scanning & Storing of Ear Impressions: Yes | |
| /// Cost of Shipping Impressions to Manufacturer: Yes | |
| /// Cost of Shipping Completed IEMs from Manufacturer to Us: Yes | |
| /// Taxes, Duty & UK Customs Handling Charges: Yes | |
| /// Bank Fees for International Payment: Yes | |
| /// Cost of Shipping Completed IEMs from Us to You: Yes | |
| /// Warranty: 2 Years | |
| | |
| --- | --- |
| /// Faceplates: Choice of Colours for Both Sides* | |
| /// Shells: Clear | |
| /// Initials: 2 Characters on Shells | |
| /// Cable: Black or Clear, Super Bax Detachable Braided | |
| /// Cable Length: 50" or 64" | |
| /// Cable Socket Type: UE IPX | |
| /// Standard Logo Options: UE / Capitol Logo | |
| * If you require the Capitol Studios logo then the faceplates MUST be Snow White Solid | |
| /// Other UE Logo Options : New Square Style or Legacy Curved Style | |
| | |
| --- | --- |
| /// Custom Artwork: +£190 (includes UE / Capitol logo removal fee) | |
| /// Halo Faceplates (Gold or Silver): +£190 | |
| /// Wood Faceplates: +£95 | |
| /// Carbon Fibre Faceplates: +£95 | |
| /// Gold Faceplates: +£95 | |
| /// Brushed Titanium Faceplates: +£95 | |
| /// Mirrored Faceplates: +£95 | |
| /// Sparkle Faceplates: +£95 | |
| /// Color Waves Faceplates: +£95 | |
| /// Mother of Pearl Faceplates: +£95 | |
| /// Replace UE / Capitol Logo with Initials: +£50 | |
| /// No UE / Capitol Logo or Initials: +£50 | |
| /// UE Switch System (inc. 3 Sets of Faceplates): from £190 (?) | |
| | |
| --- | --- |
| /// Our Office: Place your order and then select Hertfordshire HQ. | |
| /// London: Place your order and then select London. | |
| /// Rest of the UK: Place your order and then select another town or city. | |
| /// Previous Client: Place your order and then select 3D Scans on File. | |
| /// Mobile: London, Hertfordshire, Essex, Cambridgeshire, Bedfordshire, Middlesex and West Suffolk (mobile fees will apply) - Contact us to discuss your requirements. | |
| /// Management, Artists & Sound Engineers: Contact us to discuss your requirements. | |