/// Ultimate Ears UE Line Drive: £129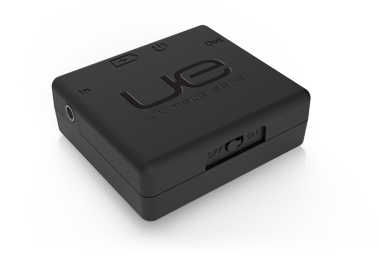 Enable your in ear monitors to perform! The UE Line Drive provides 1 main function: Audio Signal Buffering.
Audio Signal Buffering:
Ensures that devices like multi-driver, low impedance IEMS do not interact poorly with the music player headphone output electronics and "distort" the originally designed audio frequency response. Provides an EASY TO DRIVE interface to the IEM for the music player.
What UE say: Upgrade your personal monitoring system
- UE Pro Line Drive is a Line-Level signal buffer that can be connected to Line Outputs or Headphone Outputs. Line Drive is connected between the sound source and an in-ear monitor (IEM) and enables consistent audio fidelity. Line Drive guarantees the correct rendering of each IEM Sound Signature regardless of the audio source - whether plugged into a mixing console, personal monitoring system or any headphone output.
Every tour should have a few extra UE Line Drives on hand. You never know what kind of stage equipment you'll have to work with! If you need a Line Drive but also require audio spike attenuation check out the UE Sound Guard by
clicking here
.
| | |
| --- | --- |
| /// Frequency Response: 20 - 20,000 Hz | |
| /// Battery Life: 20 hours with a pair of CR2450 batteries | |
| /// Gain: Unity Gain | |
| /// Output Connector: 3.5mm | |
| /// Input Connector: 3.5mm | |
| | |
| --- | --- |
| /// Model: Ultimate Ears UE Line Drive | |
| /// Extra Pair of Batteries: Yes | |
| /// 3.5mm (male) to 3.5mm (male) Cable: Yes | |
| /// Belt Clip: Yes | |
| | |