/// Ultimate Ears UE Sound Guard with Amp and Spike Protection: £100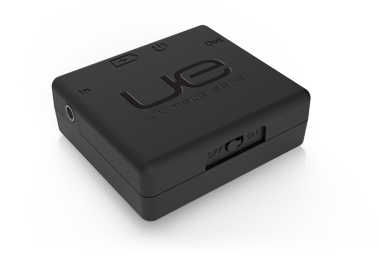 Protection that enables you and your in ear monitors to perform! The UE Sound Guard provides 2 functions: Audio Signal Buffering and Audio Spike attenuation.
Audio Signal Buffering:
Ensures that devices like multi-driver, low impedance IEMS do not interact poorly with the music player headphone output electronics and "distort" the originally designed audio frequency response. Provides an EASY TO DRIVE interface to the IEM for the music player.
Audio Spike Attenuation:
Ensure that loud, transient or unintended sounds such as microphone pops (hot plug or unplug) & drops and or feedback events are lowered in SPL so, although the user will hear it, it will be greatly reduced in level. In essence, problematic and potentially painful sound spikes and transients are reduced to more comfortable and safe levels.
Every tour should have a few extra UE Sound Guards on hand. You never know what kind of stage equipment you'll have to work with!
*
Note: The UE Pro Sound Guard only works with balanced armature in ear monitors. For an in-depth overview of how the UE Sound Guard works
click here
to jump over to the UE University.
| | |
| --- | --- |
| /// Frequency Response: 20 - 20,000 Hz | |
| /// Battery Life: 20 hours with a pair of CR2450 batteries | |
| /// Gain: Unity Gain | |
| /// Output Connector: 3.5mm | |
| /// Input Connector: 3.5mm | |
| | |
| --- | --- |
| /// Model: Ultimate Ears UE Sound Guard | |
| /// Extra Pair of Batteries: Yes | |
| /// 3.5mm (male) to 3.5mm (male) Cable: Yes | |
| /// Belt Clip: Yes | |
| | |