/// Shure SE425 Musicians Dual Driver Universal In Ear Monitors: £239.00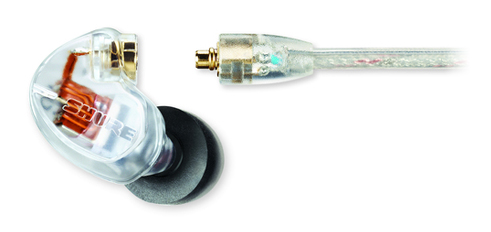 /// Stock Status
Clear: In Stock
Silver: In Stock
The SE425 musicians universal in ear monitors feature dual balanced armature drivers for an incredibly accurate and balanced listening experience. It also includes an integrated passive crossover that ensures high and low frequencies remain distinct and defined. The SE425 IEMs sound very natural and are the perfect choice for performing musicians and audiophiles.
In Ear Monitors were originally developed as Personal Monitor Systems to allow musicians to hear their own performances in loud onstage environments. They work by using soft, flexible sleeves to block up to 90% of the background noise and because every ear is different, the Fit Kit includes an assortment of foam and silicone sleeves in different sizes. Experiment with the size and style that creates the best fit for you. A good seal is key to optimizing sound isolation and bass response as well as maximizing comfort during extended wear but if you want to go 1 better, we can make custom sleeves / tips for you!
The Shure SE425 IEMs also feature a durable Kevlar reinforced cable that allows easy replacement or customisation. The formable wire ensures secure placement and over the ear configuration keeps cables out of the way. The gold plated MMCX connector has a lock-snap mechanism allowing 360 degree rotation for comfortable fit.
*
Available in Silver or Clear - Please add a note during checkout stating which colour you require.
| | |
| --- | --- |
| /// Frequency Response: 20 - 19,000 Hz | |
| /// Impedance: 22 Ohms | |
| /// SPL (1 kHz): 109 dB | |
| /// Drivers: Dual Balanced Armature Drivers | |
| /// Driver Config: 1x High & 1x Low | |
| /// Cable: Detachable 64" | |
| /// Jack Plug: 3.5mm Gold Plated | |
| | |
| --- | --- |
| /// Earphones: Shure SE425 with Detachable Cable | |
| /// Case: Hard Zippered | |
| /// Black Foam Sleeves: 2x Small, 2x Medium & 2x Large | |
| /// Soft Flex Sleeves: 2x Small, 2x Medium & 2x Large | |
| /// Yellow Foam Sleeves: 1 Pair | |
| /// Triple Flex Sleeves: 1 Pair | |
| /// Accessories: 3.5mm to 6.3mm Adapter | |
| | |
| --- | --- |
| /// Option 1: As the home of custom in ear monitors in the UK you could visit us at our offices in Hertfordshire and we could make your ear impressions for Shure Custom Sleeves or | |
| /// Option 2: We have a mobile service that covers London, Hertfordshire, Essex, Cambridgeshire, Bedfordshire and West Suffolk or | |
| /// Option 3: Contact us so that we can put you in touch with your nearest UK audiologist or | |
| /// Option 4: If you are a band or group of musicians that require multiple IEMs and ear impressions please call us as we are able to offer package deals, our coverage area for this extends to most parts of England | |
| /// View Product: Click Here | |