/// JH Audio Lola Hybrid Custom In Ear Monitors: Our Price £1575 (RRP: £1750)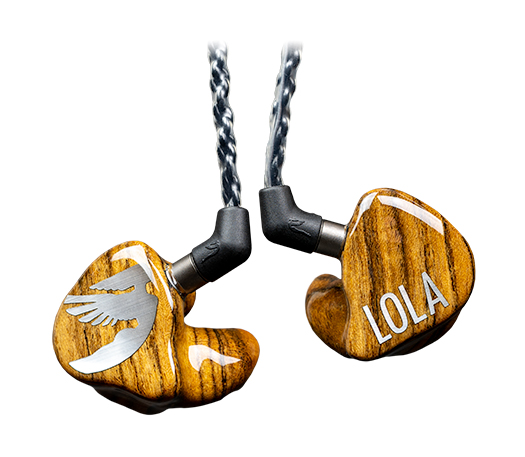 Jerry Harvey has spent a lifetime working in live audio. Along the way, quite famously, Alex Van Halen asked him to look into In-Ear Monitors, a technology that was in its infancy. Unable to find a suitable audio reproduction in the products available, Jerry designed the industry's first 2-way custom IEM. Since that day over 25 years ago, Jerry has gone on to innovate, redefine, and lead the industry in both the Professional Touring and Audiophile markets.
With the introduction of the Lola Hybrid In-Ear Monitor, Jerry Harvey once again introduces a new paradigm shift in what an IEM can do!
Lola Hybrid IEMs feature Dual Low and Quad High Balanced Armatures and Dual Dynamic 4.9mm Drivers that utilize patent pending D.O.M.E Midrange Enclosure Technology.
In order to create the new D.O.M.E technology, Jerry sourced 4.9mm dynamic drivers and designed a phase-correct band pass enclosure to house them inside the IEM. This tuned enclosure is custom 3D printed in our lab and holds two 4.9 dynamic drivers that oppose each another, giving Lola a 9.8mm effective midrange driver in a small package.
Lola also features Freqphase technology, proprietary 4-pin connectors, and 15dB of user adjustable Bass response that JHAudio IEMS are famous for!
Lola is a balance of power, detail, and warmth. Quick in its bass response, extraordinary in its detail, extension out to 20kHz and a natural, silky, airy gorgeous midrange courtesy of our D.O.M.E technology. Lola has an extraordinary analog sound stage that complements string instruments, as well as vocals, and makes a '58 Les Paul through a Marshall 4x12 cabinet sound simply awesome.
For the JH Audio Lola you will need to have ear impressions, these will need to be made by an audiologist and are not included in the price, ear impressions will cost no more than £50.
| | |
| --- | --- |
| /// Frequency Response: 20 - 20,000 Hz | |
| /// Impedance: 16 Ohms | |
| /// SPL (1 kHz): 105 dB | |
| /// Drivers: 6 Balanced Armature Drivers + 2 Dynamic | |
| /// Driver Config: 4x High (BA), 2x Mid (Dyn.) & 2x Low (BA) | |
| /// CrossOver: 3-Way CrossOver | |
| /// Cable: Detachable Braided | |
| /// Jack Plug: 3.5mm Gold Plated | |
| | |
| --- | --- |
| /// Model: JH Audio Lola, Hard Case and Wax Cleaning Tool | |
| /// Quality Checking of Ear Impressions: Yes | |
| /// 3D Scanning & Storing of Ear Impressions: Yes | |
| /// Cost of Shipping Impressions to Manufacturer: Yes | |
| /// Cost of Shipping Completed IEMs from Manufacturer to Us: Yes | |
| /// Taxes, Duty & UK Customs Handling Charges: Yes | |
| /// Bank Fees for International Payment: Yes | |
| /// Cost of Shipping Completed IEMs from Us to You: Yes | |
| /// Warranty: 2 Years | |
| | |
| --- | --- |
| /// Faceplates: Choice of Colours for Both Sides | |
| /// Shells: Choice of Colours for Both Sides | |
| /// Initials: 2 Characters on Shells | |
| /// Cable: Black or Clear Detachable Braided | |
| /// Cable Length: 48" or 64" | |
| /// JHA Logo Choices: Flygirl, JH Audio, Model, Oversized Flygirl or Outline Flygirl | |
| /// Logo Colour Choices: Various (see below) | |
| | |
| --- | --- |
| /// Full Carbon Fibre Build: +£525 | |
| /// Full Lightning Strike Build: +£625 | |
| /// Oversize or Outline Logo (per side): +£25 | |
| /// Custom Artwork: +£95 | |
| /// Carbon Fibre or Titanium Faceplates: +£95 | |
| /// Glitter Faceplates: +£95 | |
| /// Glitter Shells: +£95 | |
| /// Pearloid Faceplates: +£95 | |
| /// Lightning Strike Faceplates: +£95 | |
| /// Gold or Zebrawood Faceplates: +£95 | |
| /// Rhinestone Faceplates: +£95 | |
| /// Premium Designs: POA - Contact Us | |
| /// Signature Designs: POA - Contact Us | |
| /// Engraved Designs: POA - Contact Us | |
| | |
| --- | --- |
| /// Option 1: As the home of custom in ear monitors in the UK you could visit us at our offices in Hertfordshire or London and we could make your ear impressions or | |
| /// Option 2: We have a mobile service that covers London, Hertfordshire, Essex, Cambridgeshire, Bedfordshire, Middlesex, West Suffolk or | |
| /// Option 3: Place your order and we'll put you in touch with your nearest UK audiologist or | |
| /// Option 4: If you are a band or group of musicians that require multiple IEMs and ear impressions please call us as we are able to offer package deals, our coverage area for this extends to most parts of the UK | |