/// JH Audio JH7 Pro Triple Driver Custom In Ear Monitors: Our Price £788.50 (RRP: £830)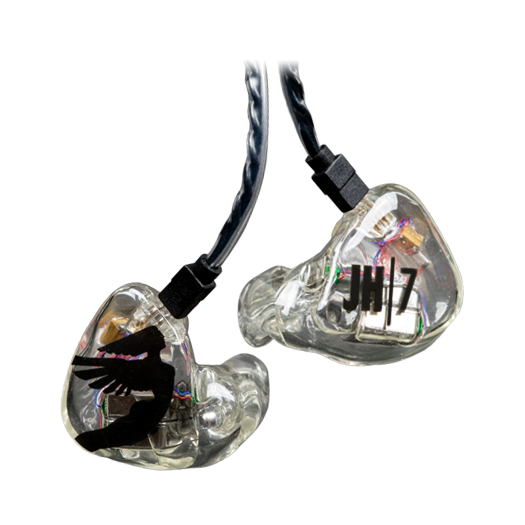 JH Audio are excited to bring back their heritage in-ear monitor, the JH7. This classic design is a longtime touring standard with incredible dynamic range and a neutral sound signature. The 3-driver configuration provides a warm bass response while maintaining exceptional detail and presence in the mids and highs - The range you need without the snap, crackle, and pop of distortion.
Their Freqphase Technology creates the most phase accurate IEMs on the market by correcting misalignment caused by low, mid, and high frequencies traveling to your ear at different speeds. The 2-pin cable has upgraded cable braiding and memory wire making this the most durable and comfortable 2-pin available, the JH Audio 2-pin cables are made of high purity OFC 4N silver-plated litz wire too - Proprietary Precision-Balanced Armatures. The JH7 features 2-way crossover with dual low and single high drivers.
Like all JH Audio custom in ear monitors, the JH7 offers 26dB of isolation eliminating stage volume and ambient noise - critical for performing musicians and audiophiles alike. This extreme ability to block outside sounds enhances the listening experience and allows lower listening levels reducing the potential for hearing damage.
Each JH Audio JH7 Pro is a unique hand-built creation based on custom ear moulds made just for your ears. These Custom IEMs are incredibly efficient, offering greater detail and accuracy over the competition.
For the JH Audio JH7 Pro you will need to have ear impressions, these will need to be made by an audiologist and are not included in the price, ear impressions will cost between £60-£80 and once you've placed an order our online order process will guide you through the next steps for anywhere in the UK.
| | |
| --- | --- |
| /// Frequency Response: 20 - 17,000 Hz | |
| /// Impedance: 18 Ohms | |
| /// SPL (1 kHz): 124 dB | |
| /// Drivers: Triple Balanced Armature Drivers | |
| /// Driver Config: 1x High & 2x Low + 2-Way CrossOver | |
| /// Cable: Detachable Braided (2-Pin) | |
| /// Jack Plug: 3.5mm Gold Plated | |
| | |
| --- | --- |
| /// Model: JH Audio JH7 Pro, Hard Case and Wax Cleaning Tool | |
| /// Quality Checking of Ear Impressions: Yes | |
| /// 3D Scanning & Storing of Ear Impressions: Yes | |
| /// Cost of Shipping Impressions to Manufacturer: Yes | |
| /// Cost of Shipping Completed IEMs from Manufacturer to Us: Yes | |
| /// Taxes, Duty & UK Customs Handling Charges: Yes | |
| /// Bank Fees for International Payment: Yes | |
| /// Cost of Shipping Completed IEMs from Us to You: Yes | |
| /// Warranty: 2 Years | |
| | |
| --- | --- |
| /// Faceplates: Choice of Colours for Both Sides | |
| /// Shells: Choice of Colours for Both Sides | |
| /// Initials: 2 Characters on Shells | |
| /// Cable: Black or Clear Detachable Braided | |
| /// Cable Length: 48" or 64" | |
| /// JHA Logo Choices: Flygirl, JH Audio, Model, Oversized Flygirl or Circle Flygirl | |
| /// Logo Colour Choices: Various (see below) | |
| | |
| --- | --- |
| /// Full Carbon Fibre Build: +£850 | |
| /// Full Lightning Strike Build: +£850 | |
| /// Oversize or Outline Logo (per side): +£25 | |
| /// Custom Artwork: +£150 | |
| /// Carbon Fibre: +£150 | |
| /// Titanium Faceplates: +£85 | |
| /// Glitter Faceplates: +£50 | |
| /// Glitter Shells: +£200 | |
| /// Pearloid Faceplates: +£110 | |
| /// Lightning Strike Faceplates: +£150 | |
| /// Premium Designs: POA - Contact Us | |
| /// Signature Designs: POA - Contact Us | |
| /// Engraved Designs: POA - Contact Us | |
| | |
| --- | --- |
| /// Our Office: Place your order and then select Hertfordshire HQ. | |
| /// London: Place your order and then select London. | |
| /// Rest of the UK: Place your order and then select another town or city. | |
| /// Previous Client: Place your order and then select 3D Scans on File. | |
| /// Mobile: London, Hertfordshire, Essex, Cambridgeshire, Bedfordshire, Middlesex and West Suffolk (mobile fees will apply) - Contact us to discuss your requirements. | |
| /// Management, Artists & Sound Engineers: Contact us to discuss your requirements. | |