/// InEarz S150 Single Driver Custom In Ear Monitors: £290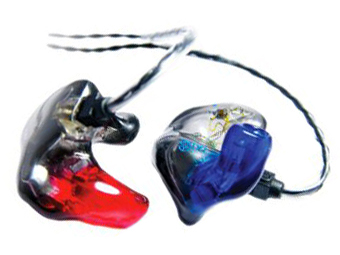 These are their entry level custom in ear monitors. They feature a single balanced armature driver with a wide frequency range, this is perfect for all walks of life, specifically tuned for beginner musicians, audiophiles and recreational use - They will provide you a crisp and clean sound that won't disappoint.
For the InEarz S150 you will need to have ear impressions, these will need to be made by an audiologist and are not included in the price, ear impressions will cost no more than £60 and once you've placed an order our online order process will guide you through the next steps for anywhere in the UK.
| | |
| --- | --- |
| /// Impedance: 24 Ohms | |
| /// Drivers: Single Balanced Armature Driver | |
| /// Driver Config: 1 Full Range | |
| /// Cable: Detachable Braided (Clear or Black) | |
| /// Jack Plug: 3.5mm Gold Plated | |
| | |
| --- | --- |
| /// Model: InEarz S150, Case and Wax Cleaning Tool | |
| /// Quality Checking of Ear Impressions: Yes | |
| /// 3D Scanning & Storing of Ear Impressions: Yes | |
| /// Cost of Shipping Impressions to Manufacturer: Yes | |
| /// Cost of Shipping Completed IEMs from Manufacturer to Us: Yes | |
| /// Taxes, Duty & UK Customs Handling Charges: Yes | |
| /// Bank Fees for International Payment: Yes | |
| /// Delivery: Yes | |
| /// Rush Service: +£130 | |
| /// Warranty: 1 Year | |
| | |
| --- | --- |
| /// Standard Colours: Included | |
| /// Optional InEarz Logo: Included (click here to see styles) | |
| /// Carbon Fibre (per side): +£25 | |
| /// Brushed Silver or Brushed Gold (per side): +£25 | |
| /// Pearl (per side): +£25 | |
| /// Glitter (per side): +£25 | |
| /// Wood (per side): +£25 | |
| /// Green Abalone (per side): +£25 | |
| /// Blue Paua (per side): +£25 | |
| /// Mother of Pearl (per side): +£25 | |
| /// Custom Artwork (per side): +£25 | |
| /// Rhinestones (per side): +£35 | |
| /// Watch Gears (per side): +£75 | |
| /// Caviar Beads (per side): +£35 | |
| | |
| --- | --- |
| /// Standard Colours: Included | |
| /// Pearl (per side): +£10 | |
| /// Clear Canals (per side): +£10 | |
| /// Recessed Sockets: +£20 | |
| | |
| | |
| | |
| | |
| | |
| | |
| | |
| --- | --- |
| /// Our Office: Place your order and then select Hertfordshire HQ. | |
| /// London: Place your order and then select London. | |
| /// Rest of the UK: Place your order and then select another town or city. | |
| /// Previous Client: Place your order and then select 3D Scans on File. | |
| /// Mobile: London, Hertfordshire, Essex, Cambridgeshire, Bedfordshire, Middlesex and West Suffolk (mobile fees will apply) - Contact us to discuss your requirements. | |
| /// Management, Artists & Sound Engineers: Contact us to discuss your requirements. | |