/// Empire Ears Apollo X Ten Driver Custom In Ear Monitors: £1490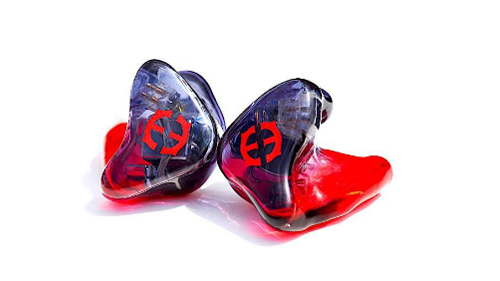 Empire Ears have collaborated with numerous Grammy award winning sound engineers to deliver their first ever live stage in ear monitor, the Apollo X. Code-named after the god of music, Apollo is punctuated by breathtaking 3D imaging and menacing levels of high resolution audio reproduction.
The Apollo X is an extremely engaging and versatile in ear monitor that was designed for the most discerning live performer. Headroom is vast, allowing the user to not only hear the stage but to feel it. The closest thing you'll come to wedges in your ears.
For the Empire Ears Apollo X you will need to have ear impressions, these will need to be made by an audiologist and are not included in the price.
| | |
| --- | --- |
| /// Frequency Response: 10 - 20,000 Hz | |
| /// Impedance: 27 Ohms | |
| /// SPL (1 kHz): 119 dB | |
| /// Drivers: Ten Balanced Armature Drivers | |
| /// Driver Config: 4x High, 4x Mid & 2x Low + 5-Way CrossOver | |
| /// Cable: Detachable Braided | |
| /// Jack Plug: 3.5mm Gold Plated | |
| | |
| --- | --- |
| /// Model: Empire Ears Apollo X, Hard Case and Wax Cleaning Tool | |
| /// Quality Checking of Ear Impressions: Yes | |
| /// 3D Scanning & Storing of Ear Impressions: Yes | |
| /// Cost of Shipping Impressions to Manufacturer: Yes | |
| /// Cost of Shipping Completed IEMs from Manufacturer to Us: Yes | |
| /// Taxes, Duty & UK Customs Handling Charges: Yes | |
| /// Bank Fees for International Payment: Yes | |
| /// Cost of Shipping Completed IEMs from Us to You: Yes | |
| /// Warranty: 2 Years | |
| | |
| --- | --- |
| /// Faceplates: Choice of Colours for Both Sides | |
| /// Shells: Choice of Colours for Both Sides | |
| /// Initials: 2 Characters on Shells | |
| /// Cable: Black or Titanium Silver Detachable Braided | |
| /// Cable Length: 50" or 60" | |
| /// Logo: EE Logo (if required) | |
| | |
| --- | --- |
| /// Abalone or Carbon Fibre Faceplates (per side): +£45 | |
| /// Swirl Infusion Faceplates (per side): +£40 | |
| /// Wood Faceplates (per side): from +£50 | |
| /// Limited Edition Faceplates (per side): +£65 | |
| /// Wing Logo (per side): +£25 | |
| /// Custom Artwork (per side): +£45 | |
| /// Swarovski Crystals (per side): +£50 | |
| /// Coloured Tips (per side): +£35 | |
| /// ADEL Version (B1 or G1): +£220 | |
| /// ADEL Version (MAM): +£310 | |
| | |
| --- | --- |
| /// Option 1: As the home of custom in ear monitors in the UK you could visit us at our offices in Hertfordshire or London and we could make your ear impressions or | |
| /// Option 2: We have a mobile service that covers London, Hertfordshire, Essex, Cambridgeshire, Bedfordshire, Middlesex, West Suffolk or | |
| /// Option 3: Place your order and we'll put you in touch with your nearest UK audiologist or | |
| /// Option 4: If you are a band or group of musicians that require multiple IEMs and ear impressions please call us as we are able to offer package deals, our coverage area for this extends to most parts of the UK | |