/// ACS Custom Pro Ear Plugs: £149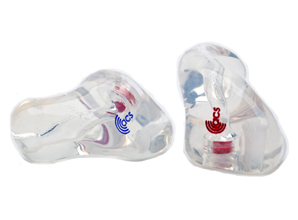 Everyone at The Custom IEM Company understands their responsibility in safeguarding your most precious sense of hearing. Itís a role we take very seriously and we take great pride in the knowledge that, over the years we have helped many customers to protect their hearing while working, playing instruments, enjoying their hobbies, their sports activities and their passions.
Providing the best fit, comfort and sound, these ear plugs offer a solution for all kinds of situations and activities. Used by amateurs and professionals the PRO series ear plugs have filters suitable for reducing the sound level to exactly how you want it. Over the years these innovative hearing conservation products have helped thousands of people to protect their hearing.
The ACS PRO Series launched at the beginning of 2011 creating a new era in level attenuating hearing protection. The ACS PRO Series are vented to allow sound to pass both ways which means that remaining sound can escape directly through the filter providing one of the most natural sounding ear plugs available.
The ACS PRO Series are the next generation of custom ear plugs which reduce the occlusion effect through the use of their vented filter, the filters are also interchangeable (excluding Pro 27) to allow on-the-go adjustments to the level of attenuation required. Being custom made the ACS PRO Series are tailored for you ensuring extreme comfort and the perfect fit.
For the ACS Custom Pro Ear Plugs you will need to have ear impressions and are included in the price.
| | |
| --- | --- |
| /// Pro 10: Click Here for Frequency Response Graph | |
| /// Pro 15: Click Here for Frequency Response Graph | |
| /// Pro 17: Click Here for Frequency Response Graph | |
| /// Pro 20: Click Here for Frequency Response Graph | |
| /// Pro 26: Click Here for Frequency Response Graph | |
| /// Pro 27: Click Here for Frequency Response Graph | |
| /// Material: 40 Shore Silicone with SterlTouch | |
| | |
| --- | --- |
| /// Model: Pro Ear Plugs, Case and Wax Cleaning Tool | |
| /// Ear Impressions (if required): Yes | |
| /// Cost of Shipping Impressions to Manufacturer: Yes | |
| /// Cost of Shipping Completed Ear Plugs to You: +£6 | |
| | |
| | |
| | |
| | |
| | |
| --- | --- |
| /// Mould Type: Canal | |
| /// Mould Colours: Clear | |
| /// Grips: Included (if required) | |
| | |
| --- | --- |
| /// Colour Upgrades (per side): +£5 (See Below Colour Chart) | |
| /// Detachable Cords: +£10 | |
| /// Laser Etching (up to 10 characters): +£10 | |
| /// Additional Filters (each): +£24.50 | |
| | |
| | |
| --- | --- |
| /// Option 1: As the home of custom in ear monitors in the UK you could visit us at our offices in Hertfordshire and we could make your ear impressions or | |
| /// Option 2: We can add ear plug orders to a new or existing custom in ear monitor order (this will not require a 2nd set of ear impressions) or | |
| /// Option 3: We can use 3D scans on file if you are an existing customer (scans would need to be less than 2 years old) | |
| | |
| --- | --- |
| /// Call Us: 0333 772 0007 (Lines Open: Mon - Sun, 9.00am - 9.00pm) | |
| /// Email Us: Click Here | |
| /// Visit Us: Click Here | |
| /// View the ACS Custom Range: Click Here | |
| /// Current Production Times: Click Here | |
| | |
| | |