/// Ultimate Ears Replacement Large Road Case: Discontinued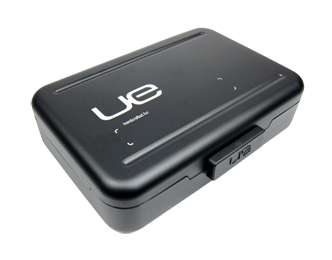 Protect your custom in ear monitors with the Ultimate Ears large road case. The internal area is rubber lined and custom fitted to hold your IEMs down within a padded pillow area, the cable is kept tidy within a convenient cable wrap zone. The case also feature a cut out for your wax tool (not included).
The lid features a sliding lock and comes ready with an area for laser etching, this is included in the price - Etch your name, nick name, initials, band name, well, whatever you like really!
Dimensions: Depth 4.50" x Width 6.25" x Height 1.50" (approx.) - To view the inside of this case
click here