/// Peli Micro Hard Cases: from £23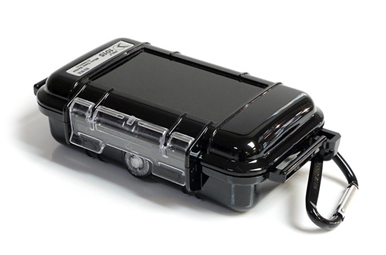 If you have an expensive pair of custom in ear monitors or even universals you'll need to be taking care of them, this is even more important as a musician. When you're packing up from a gig the last thing you want to do is break them or worse still leave them behind! A Peli case helps take care of any potential loss or damage issues...
Each Peli case is waterproof, dustproof, crushproof and airtight. They also include a purge valve to equalise the air pressure inside the case. Each deluxe Peli hard case is built to withstand the daily commute, travels and the rigours of the touring musician by using the strongest materials on the outide including a tough snap closure whilst protecting your items on the inside with rubber liners and foam inserts - A carabina is also included with every Peli case along with a sachet of silica gel to help wick moisture away from your in ear monitors!
| | |
| --- | --- |
| /// All Dimensions: L x W x D | |
| /// 1010: 162 x 121 x 54mm | |
| /// 1015: 170 x 99 x 47mm | |
| /// 1020: 162 x 121 x 54mm | |
| /// 1030: 190 x 98 x 62mm | |
| /// 1040: 190 x 128 x 54mm | |
| /// 1050: 190 x 128 x 79mm | |
| /// 1060: 238 x 141 x 67mm | |
| | |
| --- | --- |
| /// All Dimensions: L x W x D | |
| /// 1010: 108 x 69 x 41mm | |
| /// 1015: 131 x 67 x 35mm | |
| /// 1020: 131 x 86 x 41mm | |
| /// 1030: 161 x 64 x 49mm | |
| /// 1040: 161 x 95 x 40mm | |
| /// 1050: 161 x 95 x 67mm | |
| /// 1060: 209 x 106 x 54mm | |