/// Unique Melody 3DD Custom In Ear Monitors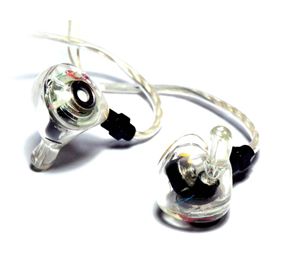 /// Monday 29th April 2013 | Posted by P-dB | Unique Melody 3DD Triple Dynamic Driver Custom In Ear Monitors...
So, UM did six drivers. They built an eight driver and they didn't like it. So they built a hybrid (UM Merlin). That was cool, but where to from here? They built the PP6 and went for a six way amplified BA IEM with the crossover in the DSP. Now what? What else can you do with a Balanced Armature? For the UM 3DD they simply didn't used them, this is their brand new invention. A three way, triple driver, triple bore custom IEM. What's so good about a three way triple you say? There is three DYNAMIC drivers. That's right, 26.5mm of reverberating dynamic diaphragm drivers. Ground breaking, never before have three dynamic drivers been crammed into a custom IEM - The driver configuration will be:
1x 13mm Low, 1x 8mm Mid & 1x 5.5mm High
Obviously they had to think outside of the box a bit for this one. No one made the drivers they wanted so they designed them. Not just one of them. All three. The dynamic drivers gave UM a different set of phase problems to the balanced armature drivers too, so they had to run with a triple bore set up. Oh, did we mention tuneable bass as well?
The price on such a ground breaking piece of in ear technology? Right between the UM Aero and UM Merlin. Affordable to the masses! We'll solidify that soon and then we'll open for pre-orders. So stay in the know, follow us on Twitter, join us on Facebook or keep an eye on our offers page as pre-order discounts will go on there very very soon! PS: They'll start high and get smaller every day so the quicker you are, the more you save...
/// Click Here for: UM 3DD Offers