/// Westone ES60 Six Driver Custom In Ear Monitors: £1099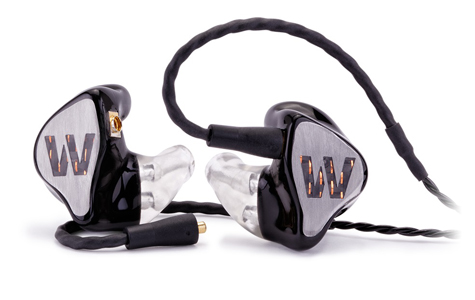 The premier musicians monitor for any performing artist...
The Westone ES60 are the ultimate custom in ear monitors, handcrafted with six balanced armature drivers in each earphone and a multistage crossover design that yields unrivaled sonic purity. Westoneís Dual Bore technology allows for the IEMís high and low frequency sound components to be channeled through separate passages in the sound port and sum within the userís ear canal instead of the earpiece. This approach results in a more convincing and transparent transition between frequency ranges. The proprietary flex-canal body makes this and all ES musiciansí monitors some of the most comfortable in ear monitors on the market today.
For the Westone ES60 you will need to have ear impressions, these will need to be made by an audiologist and are not included in the price.
| | |
| --- | --- |
| /// Frequency Response: 8 - 20,000 Hz | |
| /// Impedance: 46 Ohms | |
| /// SPL (1 kHz): 118 dB | |
| /// Drivers: Six Balanced Armature Drivers | |
| /// Driver Config: 2x High, 2x Mid & 2x Low + 3-Way CrossOver | |
| /// Cable: EPIC Detachable Braided | |
| /// Jack Plug: 3.5mm Gold Plated | |
| | |
| --- | --- |
| /// Model: Westone ES60, Hard Case and Wax Cleaning Tool | |
| /// Quality Checking of Ear Impressions: Yes | |
| /// 3D Scanning & Storing of Ear Impressions: Yes | |
| /// Cost of Shipping Impressions to Manufacturer: Yes | |
| /// Cost of Shipping Completed IEMs from Manufacturer to Us: Yes | |
| /// Taxes, Duty & UK Customs Handling Charges: Yes | |
| /// Bank Fees for International Payment: Yes | |
| /// Cost of Shipping Completed IEMs from Us to You: Yes | |
| | |
| --- | --- |
| /// Body Colour: Choice of Colours for Both Sides | |
| /// Cable: Black, Clear, Beige or Brown Detachable Braided | |
| /// Cable Length: 50" | |
| | |
| --- | --- |
| /// Custom Artwork: +£100 | |
| /// Westone Artwork Templates: +£100 (Click Here to See Styles) | |
| /// Westone Exotic Templates: +£100 (Click Here to See Styles) | |
| /// Laser Engraving: +£100 | |
| | |
| --- | --- |
| /// Option 1: As the home of custom in ear monitors in the UK you could visit us at our offices in Hertfordshire and we could make your ear impressions or | |
| /// Option 2: We have a mobile service that covers London, Hertfordshire, Essex, Cambridgeshire, Bedfordshire and West Suffolk or | |
| /// Option 3: Contact us so that we can put you in touch with your nearest UK audiologist or | |
| /// Option 4: If you are a band or group of musicians that require multiple IEMs and ear impressions please call us as we are able to offer package deals, our coverage area for this extends to most parts of England | |