/// Westone ES30 Triple Driver Custom In Ear Monitors: £799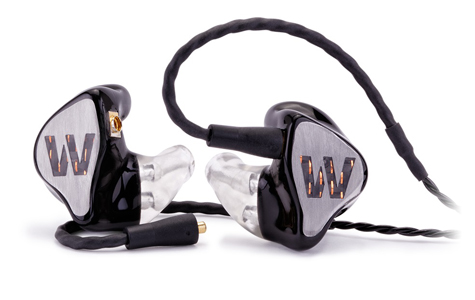 The Westone ES30 is 1 of the latest additions to the famous Elite Series, designed to offer performing musicians well-balanced custom in ear monitors no matter what instrument they play.
Utilizing the latest in balanced armature technology, with a true three-way design (separate low, midrange and high), the ES30 delivers incredibly smooth response without accentuating any particular band of frequencies. The premier true three-way custom in ear monitors for any performing musician - With 25 dB of ambient noise reduction and the long-wearing comfort only a custom earpiece can provide, the ES30 is the choice for the most discriminating musician.
For the Westone ES30 you will need to have ear impressions, these will need to be made by an audiologist and are not included in the price.
| | |
| --- | --- |
| /// Frequency Response: 20 - 18,000 Hz | |
| /// Impedance: 56 Ohms | |
| /// SPL (1 kHz): 124 dB | |
| /// Drivers: Triple Balanced Armature Drivers | |
| /// Driver Config: 1x High, 1x Mid & 1x Low + 3-Way CrossOver | |
| /// Cable: EPIC Detachable Braided | |
| /// Jack Plug: 3.5mm Gold Plated | |
| | |
| --- | --- |
| /// Model: Westone ES30, Hard Case and Wax Cleaning Tool | |
| /// Quality Checking of Ear Impressions: Yes | |
| /// 3D Scanning & Storing of Ear Impressions: Yes | |
| /// Cost of Shipping Impressions to Manufacturer: Yes | |
| /// Cost of Shipping Completed IEMs from Manufacturer to Us: Yes | |
| /// Taxes, Duty & UK Customs Handling Charges: Yes | |
| /// Bank Fees for International Payment: Yes | |
| /// Cost of Shipping Completed IEMs from Us to You: Yes | |
| | |
| --- | --- |
| /// Body Colour: Choice of Colours for Both Sides | |
| /// Cable: Black, Clear, Beige or Brown Detachable Braided | |
| /// Cable Length: 50" | |
| | |
| --- | --- |
| /// Custom Artwork: +£100 | |
| /// Westone Artwork Templates: +£100 (Click Here to See Styles) | |
| /// Westone Exotic Templates: +£100 (Click Here to See Styles) | |
| /// Laser Engraving: +£100 | |
| | |
| --- | --- |
| /// Option 1: As the home of custom in ear monitors in the UK you could visit us at our offices in Hertfordshire and we could make your ear impressions or | |
| /// Option 2: We have a mobile service that covers London, Hertfordshire, Essex, Cambridgeshire, Bedfordshire and West Suffolk or | |
| /// Option 3: Contact us so that we can put you in touch with your nearest UK audiologist or | |
| /// Option 4: If you are a band or group of musicians that require multiple IEMs and ear impressions please call us as we are able to offer package deals, our coverage area for this extends to most parts of England | |