/// Shure PSM 300 Stereo Wireless In Ear Monitoring System: £609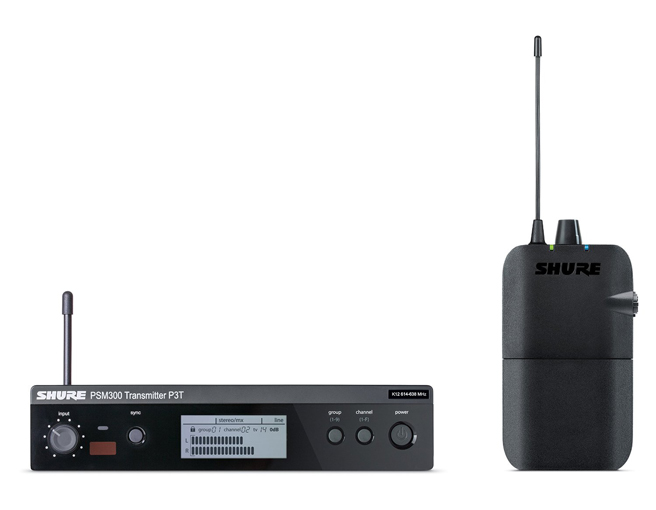 /// Stock Status: Yes (ususally shipped within 1-2 days)
The P3T is a wireless transmitter - Dependable wireless transmission and 24-bit digital audio deliver a superior personal monitoring mix for every performance. Send 2 channels of audio to a bodypack receiver up to 90 meters away, with patented Audio Reference Companding to ensure transparent sound quality with no artifacts or dropouts. The rugged, half rack transmitter features easy front-panel controls including one-touch sync and input level knob to enable quick setup and easy operation. Rear-panel balanced inputs and loop outputs provide versatile connectivity to audio sources and other P3T units.
The P3R is a wireless stereo bodypack receiver - With 24-bit digital audio clarity and up to 90 meters of range , the P3R offers reliable wireless freedom that covers every corner of the stage. Simply connect a set of earphones and adjust the controls to create a wireless personal mix. Patented Audio Reference Companding ensures the clearest sound, with ultra-low noise and no artifacts. Use MixMode technology to customize the mono blend from two channels of audio, or select stereo mode and adjust the left / right balance as desired. One-touch frequency scan and automatic frequency selection enables quick setup and connection to a P3T transmitter via IR sync.
You can also kit out the whole band with extra optional wireless receiver bodypacks!
| | |
| --- | --- |
| /// Audio Limiter: Built-in | |
| /// Antenna: Rear Mounted | |
| /// Signal-to-noise-ratio: 90dB (typical) | |
| /// Headphone Limiter: Built-in | |
| /// Volume Control: On Bodypack Receiver | |
| /// Rack Detail: 1/2 Rack Space | |
| | |
| --- | --- |
| /// Transmitter: P3T Wireless TransMixer (K9E - Channel 38) | |
| /// Bodypack Receiver: P3R | |
| /// Universal IEMs: ✘ | |
| /// Batteries: 2x AA (for Receiver) | |
| /// Rack Mount Kit: ✔ | |
| /// Instruction Manual: ✔ | |
| | |
| --- | --- |
| /// Slim, lightweight, durable form factor | |
| /// Frequency scan and IR sync quickly finds and assigns a clean channel | |
| /// MixMode enables adjustment of two independent monitoring mix levels | |
| /// Stereo mode enables adjustment of left / right balance | |
| /// Easy to adjust volume knob and mix control | |
| /// 2 AA batteries provide up to 5.5 hours of continuous operation | |
| /// Power save mode preserves batteries when IEMs are not connected | |
| /// Power and battery status LED | |
| | |
| --- | --- |
| /// Single channel, half-rack transmitter with included rack mount kit | |
| /// Sends a stereo or mono mix wirelessly | |
| /// Rock-solid wireless connection, up to 90m range | |
| /// One-touch IR sync instantly links transmitter to receiver | |
| /// Up to 30 mW output power (region dependent) | |
| /// Up to 24 MHz tuning range (region dependent) | |
| /// 6.3mm TRS balanced inputs and loop outputs | |
| /// High-contrast LCD screen with left / right audio output meters | |
| /// Detachable ¼ wave antenna | |
| /// Selectable line / aux level | |
| | |
| --- | --- |
| /// Extra Bodypack Receivers: +£299 (each) | |
| | |
| | |