/// Puretone Flex 3 Triple Driver Custom In Ear Monitors: £549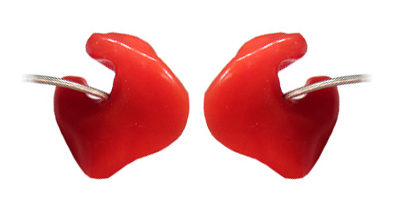 Every set of Puretone Flex 3 custom in ear monitors is custom manufactured from a soft flexible silicone material to give excellent comfort over long durations. These custom in ear monitors create an acoustic seal in the ear, effectively lowering noise and providing improved bass response, allowing the true sound of your instrument to be heard over the sound of the overall mix along with the triple drivers to deliver improved mid-range frequency response.
Puretone Flex 3 custom in ear monitors feature a fixed over the ear cable with 3.5mm jack plug. They also feature the new miniature user-replaceable wax guard system to make cleaning and maintenance easy. Ideal for any musician that wants an ultra comfortable set of custom IEMs on stage.
For the Puretone Flex 3 you will need to have ear impressions, these will need to be made by an audiologist and are included in the price.
| | |
| --- | --- |
| /// Frequency Response: 20 - 18,000 Hz | |
| /// SPL (1 kHz): 124 dB | |
| /// Drivers: Triple Armature Drivers | |
| /// Driver Config: 1x Low, 1x Mid & 1x High + 3-Way CrossOver | |
| /// Cable: Fixed | |
| /// Jack Plug: 3.5mm Gold Plated | |
| | |
| --- | --- |
| /// Model: Puretone Flex 3 and Wax Cleaning Tool | |
| /// Cases: Large Hard Case and Small Zippered Hard Case | |
| /// Ear Impressions: Yes | |
| /// Cost of Shipping Impressions to Manufacturer: Yes | |
| /// Cost of Shipping Completed IEMs from Manufacturer to You: Yes | |
| | |
| | |
| --- | --- |
| /// Mould Colour: Choice for Both Sides (Shown Below) | |
| /// Cable Colours: Black, Clear, White or Beige | |
| | |
| --- | --- |
| /// Impression Storage: +£10 | |
| | |
| | |
| | |
| --- | --- |
| /// Option 1: As the home of custom in ear monitors in the UK you could visit us at our offices in Hertfordshire and we could make your ear impressions or | |
| /// Option 2: We have a mobile service that covers London, Hertfordshire, Essex, Cambridgeshire, Bedfordshire and West Suffolk or | |
| /// Option 3: Contact us so that we can put you in touch with your nearest UK audiologist or | |
| /// Option 4: If you are a band or group of musicians that require multiple IEMs and ear impressions please call us as we are able to offer package deals, our coverage area for this extends to most parts of England | |