/// ACS Custom Evolve Studio Triple Driver Custom In Ear Monitors: £549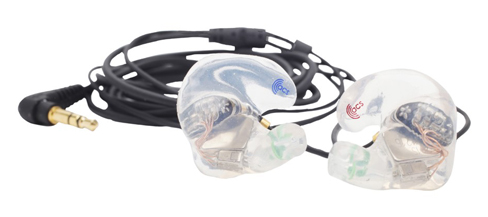 This is the redesign of the top-of-the-line ACS T1. They have kept all of its best assets and then improved on the product. The ACS Evolve retains the reference quality and warm frequency response of the T1. The ACS Evolve features the new detachable Linum cable and socket system, it comes in a range of new exciting transparent silicones and is the same price as its predecessor!
The ACS Evolve has 3 drivers and a 3 way crossover. Each driver has been configured using the crossover circuitry to handle the frequency range it is best suited to. There is a large dedicated bass driver which handles the sub frequencies and upper bass with ease resulting in a rich detailed bass response, which is not bloated or muddy sounding. The mid-range driver handles the low–high midrange frequencies, it presents vocals and acoustics accurately and beautifully without being overpowering or fatiguing. The tweeter driver takes care of the high frequency range, delivering crystal clear highs, clarity and detail.
For the ACS Evolve Studio you will need to have ear impressions, these will need to be made by an audiologist and are included in the price.
*
Note: Image is for illustration purposes only.
| | |
| --- | --- |
| /// Frequency Response: 20 - 20,000 Hz | |
| /// Impedance: 50 Ohms | |
| /// SPL (1 kHz): 119.9 dB | |
| /// Drivers: Triple Balanced Armature Driver | |
| /// Driver Config: 1x High, 1x Mid & 1x Low + 3-Way CrossOver | |
| /// Cable: Detachable Linum BaX | |
| /// Jack Plug: 3.5mm Gold Plated | |
| | |
| --- | --- |
| /// Model: ACS Evolve, Revivo Case, Soft Case and Wax Cleaning Tool | |
| /// Ear Impressions: ✔ | |
| /// Cost of Shipping Impressions to Manufacturer: ✔ | |
| /// Cost of Shipping Completed IEMs from Manufacturer to You: ✔ | |
| | |
| | |
| | |
| | |
| | |
| --- | --- |
| /// Mould Type: Full Bowl | |
| /// Mould Colour: Choice of Standard Colours for Both Sides | |
| /// Cable: Detachable - Top Exit | |
| /// Cable Length: 110cm | |
| | |
| --- | --- |
| /// Colour Upgrades: +£10 | |
| /// Upgrade Colours: Champagne | |
| /// Live! Version: +£50 | |
| | |
| | |
| | |
| --- | --- |
| /// Option 1: As the home of custom in ear monitors in the UK you could visit us at our offices in Hertfordshire and we could make your ear impressions or | |
| /// Option 2: We have a mobile service that covers London, Hertfordshire, Essex, Cambridgeshire, Bedfordshire and West Suffolk or | |
| /// Option 3: Contact us so that we can put you in touch with your nearest UK audiologist, we will also send you a pre-paid voucher to take with you to your appointment, this covers the cost of your ear impressions or | |
| /// Option 4: If you are a band or group of musicians that require multiple IEMs and ear impressions please call us as we are able to offer package deals, our coverage area for this extends to most parts of England | |