/// Ultimate Ears UE-1 Pro Single-Sided Dual Driver Custom In Ear Monitor: £430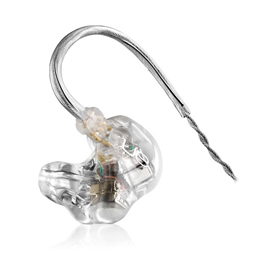 Ultimate Ears developed the UE-1 Pro Custom Stage Monitor specifically for performing artists who desire significant stage bleed while performing. Itís the ideal solution for when youíre performing harmonies and acoustic sets or for playing small venues and special events when it is imperative to hear the stage and crowd noise. For this application, the Ultimate Ears UE-1 Pro Custom Stage Monitor is much more convenient and comfortable than a full set of in-ear monitors. They deliver the distinctive Ultimate Ears sound signature you expect with evenly balanced frequency response with the best possible clarity and detail.
Inside the custom in ear monitor you'll find 4 speakers, 2 for the right channel and 2 for the left that deliver a summed stereo experience with the full clarity of all instruments and no loss of audio signal. Their proprietary dual-armature, dual bore speaker system plus an integrated passive crossover circuit directs the low-end frequencies to dedicated speakers for bass / mids and the high frequencies to dedicated speakers for treble, while maintaining clear detailed vocals and other instruments found in the mid range. The result is evenly balanced frequency response and the best possible detail while taking into account the introduction of ambient stage noise.
In addition the single cable adds extra convenience and eliminates the need for a dual set of monitors and standard Y cable - Just like the entire range, the Ultimate Ears UE-1 Pro custom in ear monitor can be ordered in a variety of colours, being personalised with your own artwork also makes them truly unique.
For the Ultimate Ears UE-1 Pro you will need to have an ear impression, this will need to be made by an audiologist and is not included in the price. Note that the Ultimate Ears UE-1 Pro can be made for either your left or your right ear.
| | |
| --- | --- |
| /// Frequency Response: 5 - 18,000 Hz | |
| /// Impedance: 15 Ohms | |
| /// SPL (1 kHz): 117 dB | |
| /// Drivers: Quad Balanced Armature Drivers | |
| /// Driver Config: 2x High & 2x Low-Mid + 2-Way CrossOver | |
| /// Cable: Detachable Braided | |
| /// Jack Plug: 3.5mm Gold Plated | |
| | |
| --- | --- |
| /// Model: Ultimate Ears UE-1 Pro, Hard Case and Wax Cleaning Tool | |
| /// Quality Checking of Ear Impressions: Yes | |
| /// 3D Scanning & Storing of Ear Impressions: Yes | |
| /// Cost of Shipping Impressions to Manufacturer: Yes | |
| /// Cost of Shipping Completed IEM from Manufacturer to Us: Yes | |
| /// Taxes, Duty & UK Customs Handling Charges: Yes | |
| /// Bank Fees for International Payment: Yes | |
| /// Cost of Shipping Completed IEM from Us to You: Yes | |
| /// Warranty: 2 Years | |
| | |
| --- | --- |
| /// Faceplate: Choice of Colours | |
| /// Shell: Clear | |
| /// Initials: 2 Characters on Shell | |
| /// Cable: Silver Detachable Braided | |
| /// Cable Length: 48" or 64" | |
| /// Logo: UE Logo (if required) | |
| | |
| --- | --- |
| /// Custom Artwork: +£85 | |
| /// Speciality or Wood Faceplate: +£42.50 | |
| /// Pattern Faceplate: +£42.50 | |
| /// Rush Build Service: +£150 | |
| | |
| --- | --- |
| /// Option 1: As the home of custom in ear monitors in the UK you could visit us at our offices in Hertfordshire or London and we could make your ear impressions or | |
| /// Option 2: We have a mobile service that covers London, Hertfordshire, Essex, Cambridgeshire, Bedfordshire, Middlesex, West Suffolk or | |
| /// Option 3: Place your order and we'll put you in touch with your nearest UK audiologist or | |
| /// Option 4: If you are a band or group of musicians that require multiple IEMs and ear impressions please call us as we are able to offer package deals, our coverage area for this extends to most parts of the UK | |