/// LD Systems MEI 100 G2 Wireless In Ear Monitoring System: £209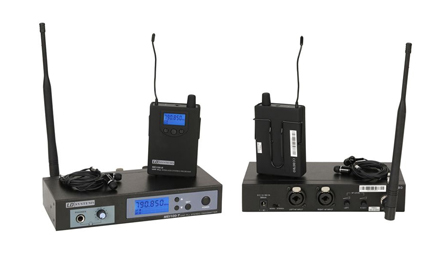 The LD Systems MEI 100 G2 is an advanced 96 channel UHF in-ear monitoring system delivering outstanding sound with extended dynamics in the 823 - 832 and 863 - 865 MHz frequency bands (UK License Free).
Switchable mono and stereo modes select the perfect monitoring setting for live music, theatre and voice applications while an input limiter has been integrated for consistent, distortion-free sound reproduction from 80 Hz – 17 kHz with a high S/N ratio and low THD.
Both transmitter and receiver feature multifunction displays providing all the important system data. Operation time of the belt pack receiver exceeds 8h with high quality batteries. The MEI 100 G2 package includes high quality earphones, a 19" rackmount kit and a rugged ABS plastic carrying case.
You can also kit out the whole band with extra optional wireless receiver belt packs!
| | |
| --- | --- |
| /// Inputs: 2 x XLR / 6.3mm phono jack (combo) | |
| /// Input Level Controls: Left / Right | |
| /// Input Level Meter: Left / Right | |
| /// Input Modes: Mono or Stereo | |
| /// Receiver: Multifunction Display / 3.5mm output | |
| /// Transmitter: 6.3mm output for wired monitoring | |
| | |
| --- | --- |
| /// Transmitter: MEI 100 G2 T, Antenna and Mains Power Pack | |
| /// Belt Pack Receiver: MEI 100 G2 BPR | |
| /// Batteries: 2x AA (for Receiver) | |
| /// Carry Case: Rigid with Handle (Foam Lined) | |
| /// 19" Rack Mount Kit: ✔ | |
| /// Earphones: ✔ | |
| /// Instruction Manual: ✔ | |
| | |
| --- | --- |
| /// Frequency Range: 823 - 832 / 863 - 865 MHz | |
| /// Transmission Method: FM | |
| /// Audio Frequency Response: 80 - 17,000 Hz | |
| /// Signal-to-Noise Ratio: > 95 dB | |
| /// THD: < 1% | |
| /// Dynamic Range: > 90 dB | |
| /// Audio Output: 3.5mm stereo jack | |
| /// Max. Audio Output Level: 100 mW | |
| /// Controls: Volume / On / Off / Menu / Set / Up / Down | |
| /// Display: Multifunction display, RF Signal | |
| /// Belt Pack Power Supply: 2x AA Batteries / Up to 10 hours use | |
| /// Dimensions: 95 x 65 x 25mm (W x H x D) | |
| | |
| --- | --- |
| /// Frequency Range: 823 - 832 / 863 - 865 MHz | |
| /// Operating Modes: Mono / Stereo | |
| /// Transmission Method: FM | |
| /// RF Output: 10 mW | |
| /// Audio Frequency Response: 80 - 17,000 Hz | |
| /// Signal-to-Noise Ratio: > 95 dB | |
| /// THD: < 1% | |
| /// Dynamic Range: > 90 dB | |
| /// Inputs: Left / Right: XLR / 6.3mm phono jack (combo) | |
| /// Input Impedance: 100 kohms | |
| /// Antenna Connection: TNC | |
| /// Power Supply: Mains | |
| /// Dimensions: 212 x 38 x 96mm (W x H x D) | |
| | |
| --- | --- |
| /// Extra Belt Pack Receivers: +£139 (each) | |
| | |
| | |