/// JH Audio Contour XO Ten Driver Custom In Ear Monitors: Our Price £1700 (RRP: £1890)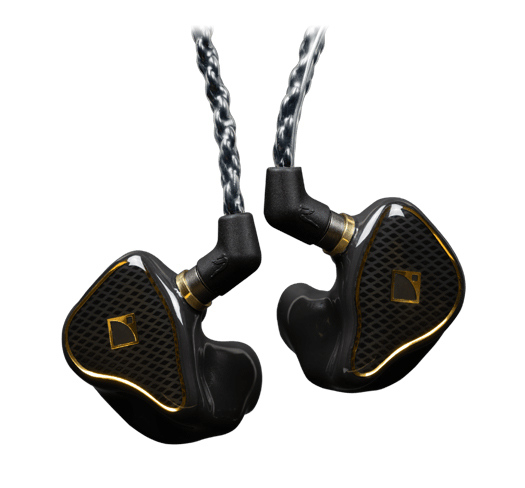 Contour XO in-ear monitors combine the efforts of two pro audio industry award-winning innovators: JH Audio and L-Acoustics. If you want the perfect reference IEM for the L-Acoustics sonic signature on stage, at the mixing desk, in the studio, or on the move, Contour XO is the answer. When performing, mixing, or just listening, you will hear accurate, distortion-free reproduction with JH Audio Soundrive & Freqphase Technology, they are built to handle extreme dynamics to deliver the intense emotional impact of live music. Further enhanced by Freqphase, Contour XO ensures precision timing across the frequency spectrum, fulfilling the sound source coherency requirements of L-Acoustics Wavefront Sculpture Technology (WST).
* Note that customization options are not available for the Contour XO *
Like all JH Audio custom in ear monitors, the Contour XO offers 26dB of isolation eliminating stage volume and ambient noise - critical for performing musicians and audiophiles alike. This extreme ability to block outside sounds enhances the listening experience and allows lower listening levels reducing the potential for hearing damage - Each JH Audio Contour XO is a unique hand-built creation based on custom ear moulds made just for your ears.
For the JH Audio Contour XO you will need to have ear impressions, these will need to be made by an audiologist and are not included in the price, ear impressions will cost no more than £50.
| | |
| --- | --- |
| /// Frequency Response: 10 - 20,000 Hz | |
| /// Impedance: 8 Ohms | |
| /// SPL (1 kHz): 116 dB | |
| /// Drivers: Ten Balanced Armature Drivers | |
| /// Driver Config: 4x High, 2x Mid & 4x Low + 3-Way CrossOver | |
| /// Cable: Detachable Braided | |
| /// Jack Plug: 3.5mm Gold Plated | |
| | |
| --- | --- |
| /// Model: JH Audio Contour XO, Hard Case and Wax Cleaning Tool | |
| /// Quality Checking of Ear Impressions: Yes | |
| /// 3D Scanning & Storing of Ear Impressions: Yes | |
| /// Cost of Shipping Impressions to Manufacturer: Yes | |
| /// Cost of Shipping Completed IEMs from Manufacturer to Us: Yes | |
| /// Taxes, Duty & UK Customs Handling Charges: Yes | |
| /// Bank Fees for International Payment: Yes | |
| /// Cost of Shipping Completed IEMs from Us to You: Yes | |
| /// Warranty: 2 Years | |
| | |
| --- | --- |
| /// Faceplates: As Shown in Image Above | |
| /// Shells: As Shown in Image Above | |
| /// Initials: 2 Characters on Shells | |
| /// Cable: Black or Clear Detachable Braided | |
| /// Cable Length: 48" or 64" | |
| /// JHA Logo Choices: As Shown in Image Above | |
| /// Logo Colour Choices: As Shown in Image Above | |
| | |
| --- | --- |
| /// Option 1: As the home of custom in ear monitors in the UK you could visit us at our offices in Hertfordshire or London and we could make your ear impressions or | |
| /// Option 2: We have a mobile service that covers London, Hertfordshire, Essex, Cambridgeshire, Bedfordshire, Middlesex, West Suffolk or | |
| /// Option 3: Place your order and we'll put you in touch with your nearest UK audiologist or | |
| /// Option 4: If you are a band or group of musicians that require multiple IEMs and ear impressions please call us as we are able to offer package deals, our coverage area for this extends to most parts of the UK | |