/// 64 Audio EP-Custom Solid Ear Plugs: £160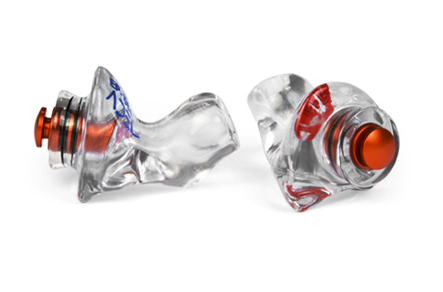 Everyone at The Custom IEM Company understands their responsibility in safeguarding your most precious sense of hearing. Itís a role we take very seriously and we take great pride in the knowledge that, over the years we have helped many customers to protect their hearing while working, playing instruments, enjoying their hobbies, their sports activities and their passions.
There are certain times and situations when we all need to be fully isolated, so we now offer the 64 Audio EP-Custom Solid Earplug. This solid earplug gives you -26dB of isolation and although the EP-C Solid Earplug DOES NOT come with apex technology, it is designed to fit an apex module if you choose to purchase one at a later time. It is printed with their 3D Fit Technology to give you a comfortable and extremely accurate fit. The EP-C is manufactured with a hypoallergenic and very durable acrylic material.
For the 64 Audio EP-Custom Solid Ear Plugs you will need to have ear impressions, these will need to be made by an audiologist and are not included in the price.
| | |
| --- | --- |
| /// Isolation: -26dB | |
| /// Module: Solid (removable) | |
| | |
| --- | --- |
| /// Model: EP Solid Ear Plugs, Case and Wax Cleaning Tool | |
| /// Quality Checking of Ear Impressions: Yes | |
| /// 3D Scanning & Storing of Ear Impressions: Yes | |
| /// Cost of Shipping Impressions to Manufacturer: Yes | |
| /// Cost of Shipping Completed Ear Plugs from Manufacturer to Us: Yes | |
| /// Taxes, Duty & UK Customs Handling Charges: Yes | |
| /// Bank Fees for International Payment: Yes | |
| /// Cost of Shipping Completed Ear Plugs from Us to You: +£7 | |
| | |
| --- | --- |
| /// Mould Type: Canal | |
| /// Mould Colours: Clear, Solid Black or Translucent Charcoal | |
| /// Mould Material: Acrylic | |
| /// Lanyard: Included (if required) | |
| | |
| --- | --- |
| /// M20 (-20dB) apex Modules: +£85 | |
| | |
| | |
| | |
| --- | --- |
| /// Option 1: As the home of custom in ear monitors in the UK you could visit us at our offices in Hertfordshire and we could make your ear impressions or we can refer you to our partner clinic in London or | |
| /// Option 2: We have a mobile service that covers London, Hertfordshire, Essex, Cambridgeshire, Bedfordshire, Middlesex, West Suffolk or | |
| /// Option 3: Place your order and we'll put you in touch with your nearest UK audiologist, we will also send you a pre-paid voucher to take with you to your appointment, this covers the cost of your ear impressions or | |
| /// Option 4: If you are a band or group of musicians that require multiple IEMs and ear impressions please call us as we are able to offer package deals, our coverage area for this extends to most parts of England | |
| | |
| --- | --- |
| /// Call Us: 0333 772 0007 (Lines Open: Mon - Sun, 9.00am - 9.00pm) | |
| /// Email Us: Click Here | |
| /// Visit Us: Click Here | |
| /// View the 64 Audio Range: Click Here | |
| | |
| | |
| | |